EW_FL50WB-PIR | 50W PIR LED Floodlight
50W PIR LED floodlight
【1】specialty:
(1)Using high power integrating LED as light source, the lamp's luminous efficiency can reach 70~80LM/W, and CRI>70Ra, with good heat dissipation and low light attenuation.
(2)Adopting die casting aluminum alloy electricity box, which have good strength, good heat dissipation property, and with baking varnish treatment, the lamp is anti-corrosion, can be used in outdoor lighting.
(3)Accommodate to wide input voltage from 100V~240VAC, constant voltage & current output, it can start up at once with no flickering, lightning protection and PFC function available.
(4)It comes with PIR switch, the induction time and sensor type can be set freely, meet up with certain lighting needs.
【2】 Shape Structure
【2】 Shape Structure
Shell Material: Aluminum Alloy
Shell Color: hoar/ Black
Weight: 3.8Kg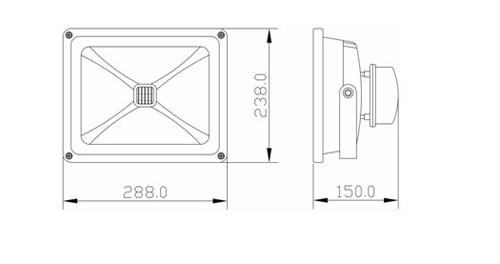 【3】Parameter
Item No.

EW-FL40WB-PIR

Input Voltage
AC100~240V
Color Rendering

Ra>70

Freqency Range

50~60Hz

Beam Angle

100°

Power Factor

>0.95

LED Reduction Rate

1~3% / 1,000Hrs

Power Efficiency

>87%

Color Temperature

2700~7000K

LED Working Voltage

DC18~24V

Working Temperature

-20℃~+45℃

LED Power

50W

IP Grade

LED IP65

PIR IP44

Total Power

57W

Working Life-span

>35000H

Induction Distance

12M

Induction Angle

140°

Light time setting

5Sec.~5min.

Environmental Setting

Environment brightness set

Day~Night
Industion Height

1 ~ 4M

male and female waterproof joints

L=800mm

LED Luminous Efficiency

70~80lm / W

Power line

VDE 3×1mm2

Wire Connect

Brown→L Blue→N Yellow/olivine→G
【4】Diagram of degradation for Luminous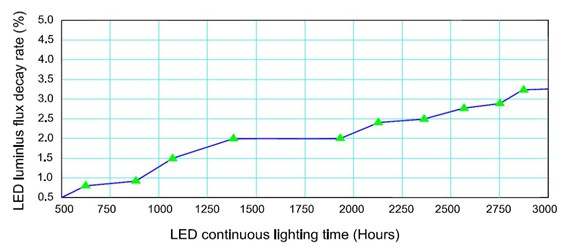 1、The data above has been got at a temperature of 25 celsius degree and taking 1000 hours running by a nonstop way.
2、Degradation of luminous flux of LED lamps depends on environmental conditions. The higher the temperature, the longer the using time, the faster luminous flux drops.
【5】Photomatric Data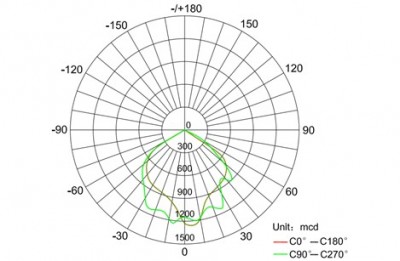 【6】Illumination Distance/illuminance/Irradiated Area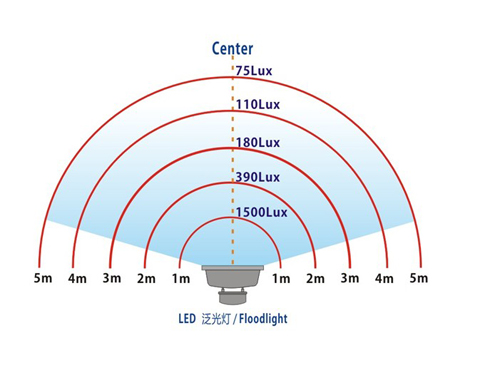 【7】Packing specification
1、Packing Dimension:(L)654×(W) 384×(H) 304mm 4PC/CTN 17Kg
2、Packing Dimension: (L) 130×(W)100×(H)170mm 20PC/CTN 9.5Kg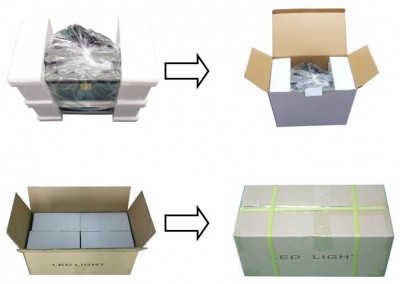 【8】Using and installing instructions
Mounting Methods

Installation Procedures
As pictures bellow, the lamp is for outdoor using (PIR separated style), ideal for different lighting applications.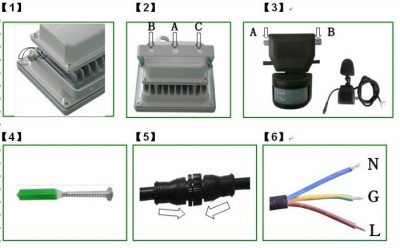 1、As Picture No.1 showed, loose the fixable screw, and take off the fitting.
2、As Picture No.2 showed, fix the fitting to mounting surface with 3 screws (Including A.B.and C).
3、As picture No.3 showed, lock the screws on AB hole to fix the lamp on to working face.
4、As picture No. 4 , install the induction probe and screw to fix the PIR.
5、As picture No.5 showed, both outdoor & indoor using, equiped with male and female waterproof joints for easy installation.
6、As Picture No.6 showed, connect Live / Null /Ground wire to electric cable properly and switch on.
Automatic induction setting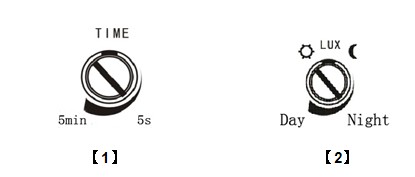 1、Lighting time setting (approximately 5 seconds to 5 minutes ).When setting the lighting time, rotate the switch buttom from [5 seconds ] clockwise can prolong the lighting time.
2、Lighting environmental (LUX) induction (Induction lighting day and night – only induction lighting at night ).Rotation from [ day ] clockwise can set induction lighting as night and day, dusk or only night lighting.
Attentions:
1、Only a lisence electrician can undertake the installation, and please do check the lamp very carefully before installation.
2、Please follow up the installation procedures, make sure the screws been wrested very tightly, the wires been connected properly, as attached installation instruction.
3、After installation, the inductive probe knob must not put upward, and there is leaking hole upon every sensor, which can avoid the influent waterlogging.
If you are interested in our products,please click PIR LED Flood lights for more information.
分享给朋友